The Federal Housing Administration offers another loan known as the 203K that provides another option for homeowners not interested in purchasing a move in ready home. While the general FHA loan is designed to give home loans to homebuyers who might otherwise be overlooked, the 203K loans are designed to give loans to the properties that would otherwise be overlooked.
These are, to put it mildly, the fixer uppers. These loans are for homes and buildings that are in disrepair and buying them will involve investing in significant repairs that might seem otherwise daunting to some.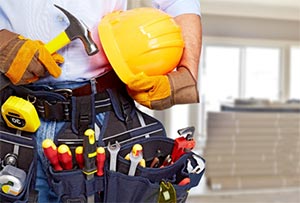 When it comes to 203k loans the most important thing to keep in mind is the four R's: Renovate, Repair, Remodel and Rehab.
There are two types of 203K loans available: standard and streamlined. Standard 203k loans are for homes that need structural repairs, and streamlined loans are for those homes that need non-structural repairs.
These loans are offered to both homebuyers and current homeowners. For example, if someone owns a home in Downey that has fallen into neglect, the 203K loan would allow the owner the opportunity to repair the damages.
How Does One Qualify for a 203K?
Because this program is designed to incentivize buyers into taking risks, 203K loans are easier to obtain as the eligibility requirements are less limiting than compared to other loan types. Here's how it goes:
The loan applicant must provide proof of income, proof of assets, and a credit report.
The property is inspected by an approved appraiser who will look at the current value of the home and estimate what the home will be worth after the repairs are completed.
The loan applicant must submit a detailed proposal of all the renovations.
The loan applicant must intend to make the purchased property their primary place of residence after repairs are completed.
For a property to qualify as eligible for a 203K:
It must be an existing property that is at least one year old.
Single family, duplex, triplex and fourplex properties are all allowed.
Condos must be approved by the FHA.
In the case of a mixed use property, the loan can be applied if the residential portion is being purchased and repaired.
If the home needs to be demolished and rebuilt, the property is eligible for the loan if part of the foundation remains intact.
Homes that need to be moved to a new foundation are allowed, but with restrictions.
There are specific guidelines for which repairs are allowed. The loan application must not only factor in the cost of raw materials, but also the labor costs. The following repairs are covered by the loan:
Disability access
HVAC systems
plumbing
roofing
flooring
energy conservation
kitchen remodeling
new appliances
room additions
decks and patios
bathroom remodeling
second floor additions
new siding
finishing an attic or basement
site grading
This loan plays an important role in urban revitalization. By selling vacant homes and rehabbing neglected ones, neighborhoods can be refreshed and overall home property values can increase. If this is a loan you believe will work for yourself and your family begin the application process today!
Skyline Home Loans is not affiliated with the U.S. Government. Each is solely responsible for the products and services it offers.