We all remember that scene from the movie Jerry Maguire, right? The guy is trying so hard to get it done for his client but he just needs a little more cooperation, effort, buy-in! He repeatedly yells, "Help me…help you!"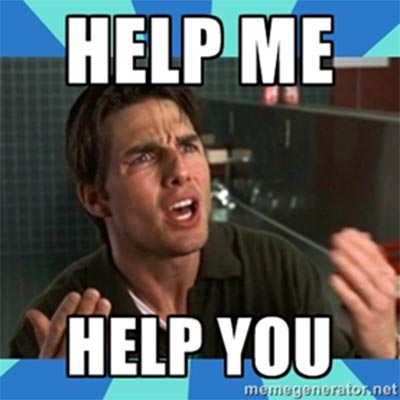 Then something clicks. Teamwork starts. Magic happens. Gotta love it!
Well today, I'm boldly asking the same of you – my potential homebuyer. Help me, help you, please.
Don't worry. I won't shout or ask you to do the dance or score touchdowns. I just ask that you be prepared when it comes time to do loan paperwork. Getting all the documents to prove your financial status in line is one of the biggest parts of a loan application process. That's where you can help me, help you!
Following is a list of the documents I may ask you in order to build your application. Be prepared by gathering these documents and scanning them into an electronic format so they can be easily shared.
Tax returns for the past 2 years. This helps me get accurate information on your income and tax responsibility according to Uncle Sam.
Bank statements. Shows proof of your incoming and outgoing cash flow.
Brokerage account statements for things like money market accounts, IRAs, 401K and other investments. Again, shares a bigger picture of your net worth.
W2s from all employers. Especially important for those who are self-employed or working for more than one employer.
Pay stubs for at least one month. Again, knowing your accurate income is important!
This is for those who are self-employed. I'll need a profit-and-loss statement too.
If you are using money given to you as a gift for your down payment, make sure you have a gift letter.
Anything else I have discovered we need to take a look at as I've gotten to know your financial status.
It is quite the list, I know. But it's a great start! I chose Skyline because they make closing loans quickly a priority. That means that for the most part, my clients are happy with how quickly and smoothly the loan process goes. A little extra help from you with having all this important info at hand goes a long way!
As always, call me at (562) 972-0351 with questions or clarification on any of the list above.
And…If you haven't seen the Jerry Maguire movie, please download it this weekend and call me after to let me know how you liked it!
Sources: bankrate.com and myfico.com